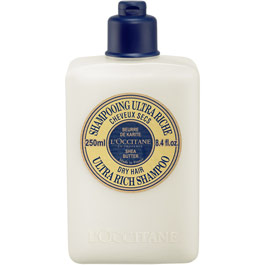 Hey guys! I'm so excited to finally post my review of L'Occitane en Provence Ultra Rich
Shea Butter Shampoo
! This is the first product that has been sent to me to review, and I'm in love with it! Thanks so much Mary, and sorry this review took so long!! ♥
So, on to the review! Let's read the label, shall we? "This rich and soft shampoo is specially formulated for dry and very dry hair. Selected for its nourishing and restructuring properties, Shea Butter deeply nourishes and protects hair and scalp against harsh conditions (suns, wind, cold, colorations...) hair is instantly shiny, soft and smooth." Seeing as how I fall into the "very dry" category, this shampoo is perfect for me! L'Occitane (lox-ee-tahn fyi) is a brand that is all about Shea Butter and most of their products use it. I do agree that after using this shampoo, [very] dry hair feels noticably softer, smoother, and quite shiny and healthy looking (and it's hard to make my platinum hair look healthy, so that's saing something). My mom even said it makes her [color-treated] hair feel so nice and soft, she didn't even need to use conditioner! That blew me away.
Now let's break down the ingredients and see what makes this miracle shampoo work: Water, Disodium Laureth Sulfosuccinate**, TEA-Lauryl Sulfate**, Acrylates Copolymer, Disodium Lauryl Sulfosuccinate**, Sodium Cocoyl Isethionate**, Corn Starch**, Cetearyl Alcohol**. Not your everyday shampoo. I know, what's with the asterisks right? The label states ** = Natural Origin Ingredients, what they don't say is where they originate. I'm not one of those people that has to use all natural everything, so it doesn't make a difference to me.
Anyways, Disodium Laureth/Lauryl Sulfosuccinate is an anionic (negatively charged) surfactant that is made from coconut oil and lauryl alcohol. It's a very mild cleanser that is excellent for sensitive skin, and hair apparently. It also has foaming properties, but I don't remember this shampoo making much foam. TEA-Lauryl Sulfate is another gentle cleansing agent, much more mild than others like SLS and ALS. It will also not produce Nitrosamines, which are carcinogenic compounds. Acrylates Copolymer, which I talked about in the
Redken 09 Blown Away Review
, are usually found in styling products to give hold and body. I suspect they used it to help keep the moisture in your hair. Sodium Cocoyl Isethionate is gentle cleanser that's also made from coconut oil. It thoroughly cleans skin and hair of impurities while locking in moisture. Corn Starch absorbs moisture and coats the hair/skin leaving it feeling soft and supple. Cetearyl Alcohol is not new to The ART & SCIENCE of [beauty]. It's an emulsifying wax that conditions hair to make it feel luxuriously soft and healthy--which is always a good thing. ;-)
Slight downside? L'Occitane is a very high-end brand, with high-end prices. If you're on a tight budget, you probably won't be visiting a L'Occitane boutique very often, if at all. However, I'm a firm believer that if something really works and exceeds your expectations, it's totally worth it. Another thing, if you're really sensitive to fragrances in your products you may not like this shampoo's scent. The fragrance is very fresh and soapy, it kind of reminds me of ivory soap. To me, it smells good and I don't find it over-powering, but some of you might. I actually wish their shampoo and conditioners came in backbar sizes, because if I had my own salon I would definitely carry them!
If you've got dry hair and you're looking for a new shampoo, I really suggest giving this a shot. It moisturizes very well, is color-safe, and is worth every penny IMHO.
L'Occitane en Provence Shea Butter Shampoo comes in a 8.4 fl. oz bottle, and retails for $17.00. They have boutiques all over the world, and you can shop online in most countries! Find one near you, and take care of your hair!!!